Dream Center provides resources for undocumented community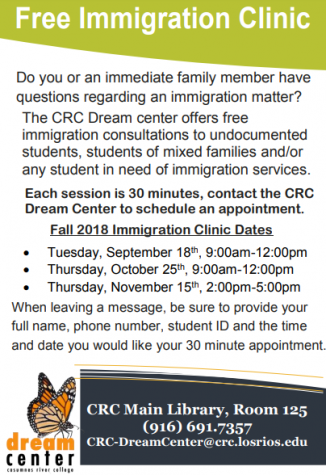 The Dream Center hosted its first ever resource event for undocumented students on campus.
The event was on Oct. 11 in the WINN Center and featured booths for different organizations from across the community.
"This is the first of many more," said Oscar Plascencia Mendoza, head event coordinator. "It will take us time to establish trust and a connection with the students."
College President Ed Bush attended the event and spoke to the group. He said that "information is powerful" when it comes to getting information out for undocumented students requiring help.
Booths there included UC Davis AB540 and the Undocumented Student Center, Dreamer Resource Center at Sac State and the Sacramento FUEL Network.
They each had different resources available such as UndocuAlly training that trains students and faculty how to help undocumented students on campus and legal services offered for free or at discounted rates.
Some of UC Davis's resources include a safe space office, UndocuAlly training, and free legal services for both students and their families said Alondra Franco, a community advocate for the UC Davis Undocumented Student Center.
The Sac State Dreamer Resource Center have Friday seminars for students that include policy debriefing, renewing DACA applications and also providing an internship program with the resource center said Rossmeri Ramirez, a coordinator at the Sac State Dreamers Resource Center.
Other booths included organizations from the Sacramento community, including Sacramento Family, Unity, Education, and Legal Network that helps with legal services and education for families that are on the verge of deportation, according to flyer printouts at their booth.  
La Familia Counseling Center also provides help with legal services for undocumented students and families. Their services also include help with support services to low income families and at-risk youth in the Sacramento County.
"I believe this would make an impact on the undocumented community because the Dream Center has brought all these organizations out here for their help," said Halimeh Edais, a 20-year-old journalism major who volunteered at the event.
Selene Ramirez, a coordinator for the event, said that even if the turn out wasn't as expected that at least the information is out there for students to find.
For more information about the services available for undocumented students visit the Dream Center website at www.crc.losrios.edu/dreamcenter or visit them in the Student Access Center in Library 125.