OneBook Author Richard Louv speaks on the importance of balancing nature and technology
On April 4, the author of Last Child in the Woods came to Cosumnes River College and discussed some topics related to his book.
The recital hall was filled almost completely full and many students had his book with them for the event and book signing afterwards.
Richard Louv was interviewed by nutrition major Nick Kopp, and shared many interesting thoughts, as well as elaborated on his book. Following his interview, Louv answered some questions from the crowd.
Last Child in the Woods was published in 2005 and has been picked up as an interdepartmental study book by the CRC english department. The book deals with the issue of the divide between nature and children, which Louv refers to as nature-deficit.
Louv wanted to make sure the audience knew he is not against technology, but he is "pro balance."
Education and the need for educators to provide students with more time outside in nature rather than replacing it with time in front of screens is a big deal to Louv.
"I think for every dollar spent on technology in education, another should be spent at least on real world – particularly nature," Louv said.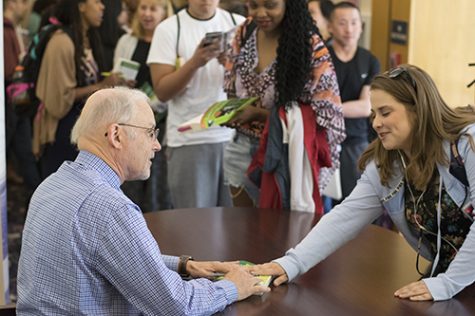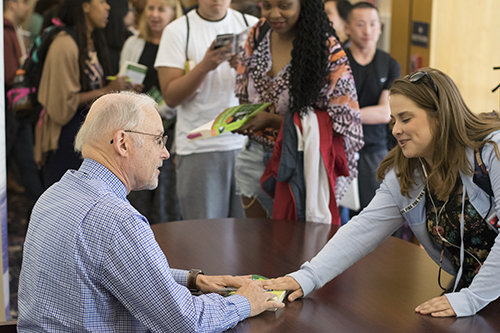 Louv has created something he calls the 'New Nature Movement,' a social movement to promote the importance of nature in a child's life and also a way to change the way technology is being placed into children's lives in schools.
"[The] education system doesn't invite us to meetings. It's the technology industry at work. They have iPads and computers in schools. They don't talk about going outside," said Louv. "In more and more school districts, recess has either been cancelled or cut back radically, when we know from the research that going outside raises test scores."
Louv also wanted the audience to know that there is no right way to grow up, and that everyone's experience is going to be different.
"I came to nature through the woods," said Louv. "I grew up in Kansas City on the suburban edge. I could walk out my backdoor, through the yard, to the edge into the cornfield behind our house and on into the woods that seemed to go on forever.  Those woods entered my heart, and even though the bulldozers finally came, those woods are still in my heart and I go to those woods sometimes, and I find something bigger there than the problems I see on CNN."
Leave a Comment